This blogpost might feel slightly tangential to Historical Games – are sports games historical games? HGN always aimed to explore the relationship between history and games, of all kinds and broadly defined! To that end, it's worth considering how sports games demonstrate the evolution of design and technology, how they use history and how the digital versions simulate or otherwise conduct their relationship with the real sport (and sport history). With that in mind, I'm going to talk about Electronic Arts' FIFA franchise and relate this to how we consider the real-world environments that are used in games and discuss current challenges and future models.
It is an opportune time to be writing about the FIFA franchise, as it was announced earlier this year that the licensing agreement between EA Sports and FIFA (the governing body of football) that has existed since 1993 was coming to an end and that from 2023 the game would be known as EA Sports FC. That the relationship between Electronic Arts (EA) and FIFA goes back almost 30 years has led to FIFA becoming synonymous not just as the governing body of football but (equally so) as the video game franchise. It is a commercial juggernaut for EA and although figures are not widely available it is estimated that the game brings in over $1 billion in revenue each year. For FIFA (the governing body) the licensing agreement has grown to be worth about $150 million per year. As EA has grown the franchise, they have consistently set about securing a wide range of licensing agreements. Currently, they boast in excess of 300 agreements that they have in place with Leagues, Clubs, Player Organisations, Players and Ex-Players, Stadiums, and (of course) the governing body itself. The decision to not renew the license with the governing body is reportedly due to the amount of money FIFA was demanding and additional limitations on how EA could use the brand. Questions on whether EA's exclusivity rights extended into other areas beyond the game such as highlights, tournaments and non-fungible tokens were another sticking point and EA was concerned that FIFA was already licensing its brand to other video games, such as Fortnite and Roblox, and this could potentially be extended to more direct competitors. The decision brings to a close a significant chapter in gaming history with FIFA23 (due late 2022) being the last edition to hold that name.
A Game of Two Halves
Before moving on to talk about the environment and the game in more detail, I probably need to address why I consider FIFA a historical game. From the outset, at HGN we are interested in exploring "the relationship between history and games, of all kinds and broadly defined." Adam Chapman has previously defined historical games studies as the "study of those games that in some way represent the past or relate to discourses about it" (Chapman 2016, 16). To that end, FIFA has aspects that represent the past.
More specifically FIFA (the game) represents current events, the recent past and to an extent the popular historical face of football. Players can, if they wish, embrace layers of data and statistics; or ignore much of it, as they choose ways to play. However, it is more than data and statistics as, in specific modes, Players can engage with Icons (previously called Legends) and Heroes (new to FIFA22). These are footballers who have retired from playing but gained notoriety, such that there is sufficient demand from game players that they can be playable in-game. There is debate regarding accuracy and authenticity that plays out yearly with different gameplay elements. For example, while some lesser-known players have generic faces and body types, other more recognisable footballers have face scans, unique models and animations. FIFA players will argue that these are important for different reasons – many of which, but not all – are gameplay related. There is also a strong paratextual component where EA's marketing emphasises FIFA as the only authentic football game, largely because of the volume of licensing agreements they have in place, as noted above. From a historical game perspective, it is worth considering how the games and the paratextual content around them can come to represent and misrepresent history.
With each yearly release, these games become pseudo-historical records that both reflect the real world but can also distort it. For example, in the hugely profitable Ultimate Team mode, some playing cards have stats enhanced because they represent live performances on the pitch, others simply because they fit a themed promotion or will prove popular with the player base. Similarly in considering other aspects of the sport, FIFA reflects and distorts the real world. As a game with a global audience, EA has had to navigate multiple different legal arrangements and not always successfully. For example, due to legal concerns over image rights and licensing disputes, game players can't actually select or play with players in the Brazilian Football League; Maradona was posthumously removed due to an ongoing legal dispute over who owns Maradona's likeness rights; various Leagues, Clubs, Stadiums, Players and ex-Players have sought to license their rights and likeness to other games, most notably Konami's Pro Evolution Soccer (rebranded this year to eFootball).
The Beautiful Game?
How does FIFA relate to the Environment theme for Historical Games? FIFA demonstrates both the perceived simplicity and the layered complexity of in-game environments. It is a great example of how companies have to choose where to focus resources on creating a game – what they choose to license, what they model, what rules they adhere to and what rules have to be broken to maintain gameplay (referees are never wrong because the game's code doesn't allow them to be; offsides are always offsides, and VAR checks are purely posturing towards reflecting – rather than simulating – reality). It is a good example in which to explore the importance of 'authenticity' for developers, publishers, players and license holders. It also provides a model for the potential licensing of real-world venues (and historically significant sites). As we put out in our Call for Contributions. the environments of historical games sit precisely at the intersection between gameplay and representation. In historical games, space and the environments it contains not only reflect narrative, but actually function as narrative itself. Through the lens of FIFA we can consider how games examine these.  
It's important to note that FIFA contains multiple modes from Volta – a game mode that brings Futsol to the videogame and takes place in virtual playgrounds from New York to Tokyo – through to the modes that aim to replicate professional football more directly. In Career Mode, players can create a club and lead them from relegation candidates to global giants. Players can choose to play this as a Manager or a Player Career experience so that the journey, progression, achievement, and immersion are player-driven. In Pro Clubs, the game mode is centred around bringing together groups of players, with each of them controlling a single player on the pitch to create a more realistic experience. The most popular (and profitable) online mode is Ultimate Team (often referred to as FUT). Hugely popular, game players open packs, satisfy objectives, and complete challenges in order to earn coins and players, with the overarching aim of building what they consider to be the best team. FUT itself is a hybrid mode that blends both real-world player performance but also the virtual popularity of players (and the optimisation of teams) within the game. During the regular football season, players can be selected to receive new cards based on their performance (Man of the Match, Team of the Week, Player of the Month) or through promotions: this can include incremental improvements to stats based on their performance or simply better cards for players that Electronic Arts decide to promote. The attention that FIFA gives both to current and historic players (through Hero or Icon cards) is matched with the environments. When stadiums are improved or when clubs are promoted to certain leagues, there is an expectation that the stadiums will be updated or added to the game. It is through consideration of what are relatively 'standardised' environments – and ones that don't directly affect gameplay – that it is possible to unwrap the complexities of historical game environments.
The argument for providing detailed stadium environments is that fans of sports video games expect realism. This goes beyond more direct gameplay elements such as the players' movement, skills or likeness. For EA Sports it is about delivering a digital gameday experience that is as close to the real world as possible, and stadiums are critical to that. Studies have shown that for football fans the stadium experience is akin to home (Charleston 2009) and integral to a sense of well-being, ownership and of place for the support for a particular club (Wood & Gabie 2011). To replicate that experience digitally EA Sports now use photogrammetry and Lidar scanning to construct the initial models. In the past, EA Sports would send people to individual stadiums to take pictures and scope the site and whilst that may still happen for venues that are difficult to replicate from other data, typically the scans are the core of the initial models. In 2020 Nick Wlodyka, then Vice President and General Manager of EA Sports stated that it could take 100 days to create the stadium architecture and from that, the experience would be developed to build a 'bespoke presentation package' to showcase the iconic features of the venue. The aim is not just to recreate the architecture but the specifics of the environment, including signage, tunnels, tifo visual displays in the stands, and the crowd chants.
Several stadiums were added or updated in FIFA22 – these included Estádio da Luz (SL Benfica), Estádio do Dragão (FC Porto), SchücoArena (Arminia Bielefeld) and Estadio Nuevo Mirandilla (Cádiz CF). Others were updated due to recent refurbishments such as The Reale Arena (Real Sociedad) or added during the gameplay cycle, including Brentford Community Stadium (Brentford FC). As an example of how faithful the recreations are, if we look at the image of Estádio da Luz and its digital replication in FIFA22, we can see the level of detail that EA strive for.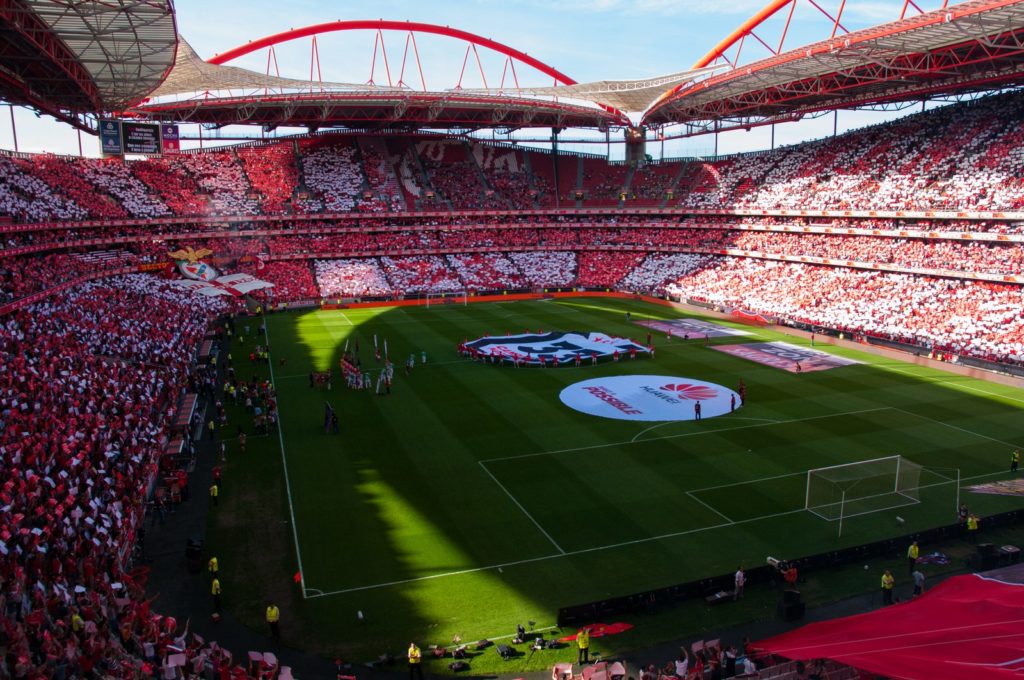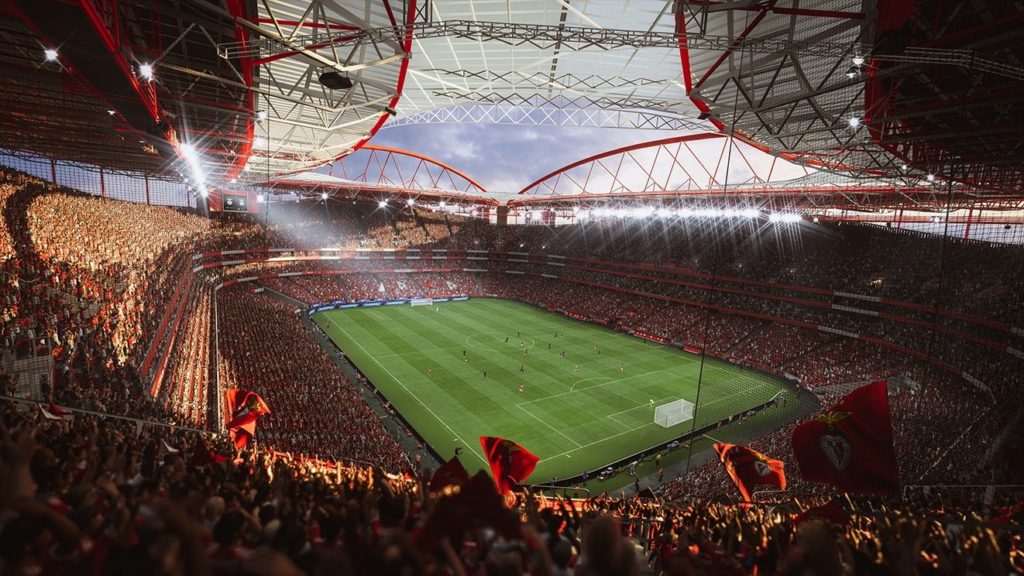 The process of development and iteration is shaped by the technology, but it is how these are communicated to the fanbase and the surrounding paratextual elements that can elevate game assets to become pseudo-historical documents themselves. Take for example this behind-the-scenes video from EA for FIFA15:
The featured teams and players replicate the Barclay's Premier League 2015-2016 Season and the player models, animations, face scans, and the stadium detail are reflective of the tools and technology for the previous console generation. However, the players, teams and stadiums are now mostly different. Multiple players in the video have subsequently retired from playing. Featured teams have been relegated and others promoted, stadiums re-vamped and sponsors changed. The nuances of the wider environment shape the game that in many ways remains familiar but in others feels radically different. Exploring each of these aspects is a long post but for now, I'm going to highlight just one area that demonstrates the complexity: the football pitch.
Pitch Perfect
At the most basic level a football videogame requires players to play on a pitch, that pitch has virtual dimensions that have to represent the real rules of football. The standard dimensions of a football pitch are defined in The Laws of the Game. The minimum length for the touchline is 90 meters, while the minimum for the goal line stands at 45 meters. The maximum lengths are 120 meters for the touchline and 90 meters for the goal line (though when it comes to international matches, the pitch can range from 100 x 64 to 110 x 75 meters). Although football pitch dimensions vary, the average pitch is 105 m x 68 m. One of the challenges in creating authentic and licensed content is that many real-world pitches vary in size. Clubs are allowed some leeway within the boundaries set but they are to some extent limited by their stadium design. Newer stadiums tend to have larger pitches than older ones due to better design but again may be constrained by other issues, such as there being athletic tracks between the pitch and the stands, how close the stands are to the pitch or more innovative solutions such as the new Tottenham Hotspur Stadium that has a retractable football pitch to allow an American Football (NFL) pitch to be used.
Why does the pitch size matter in a virtual football game? For football fans, there is a desire not only for the pitches to accurately reflect the real-world dimensions but also for the virtual stadiums to have an authentic feel. This is an aspect that EA actively courts with the ability to collect/purchase different stadiums and one that is directly challenged by increasing customisable options. Fans had regularly requested more customisation options for stadiums and clubs. EA has sought to address those calls with specifically designed FUT Stadiums (fictional stadiums that don't have any real-world equivalent), allowing players to change the size and overall look of their home ground. This includes options to select Badges, Kits, Balls, Club Anthems and Goal Songs but also more atmospheric aspects such as Crowd Chants and Seat Colours. Players can also select to add different banners or crowd card displays. Players can also use predesigned Tifos (choreographed displays in which fans in a stadium raise a large banner together or simultaneously hold up signs that together form a large image) but EA is yet to allow user-generated ones. Tifos in the real world are used for a variety of reasons, mostly as a form of support for the club, but increasingly to message the club, and make controversial or political statements. As the options for customisation have grown so have options to modify touch line colours, net colours and different goal pyrotechnics. Whilst these are mostly for cosmetic purposes and are optional, they can support gameplay – for example in the case of goal pyrotechnics providing a clear visual indicator that a goal has been scored – or grief other players, most recently through the option to add green-coloured goals and touchlines, making it difficult to determine where the opposition's box is on the pitch and easier to mistakenly run out of play.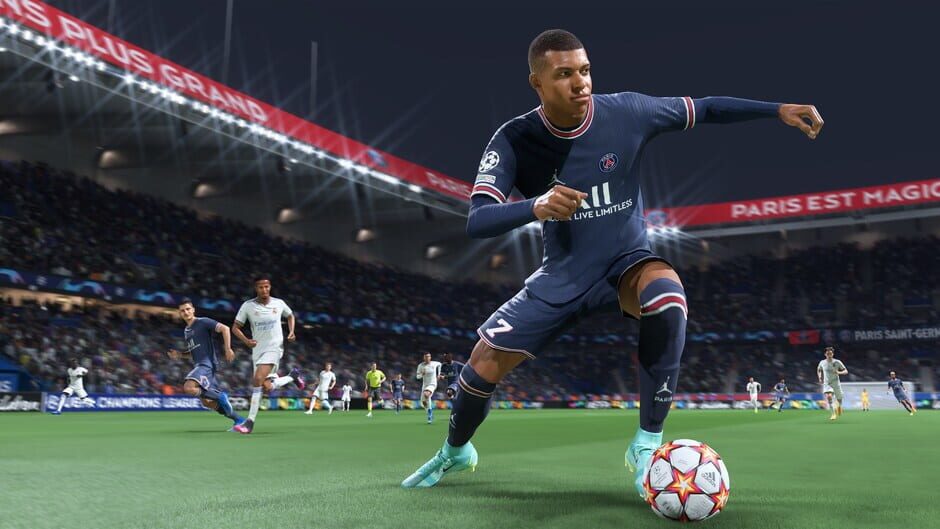 These customisable options then allow gamers to blend and morph the environment. How much customisation is permitted or acceptable is a delicate balance between what gamers may want, the deliberations of the game designers, and the expectations of the license holders. It's unlikely that clubs or stadiums, for example, would be accepting of changes that could alter their insignia, virtual architecture or append or remove fundamental features. Indeed, it is often these agreements that are unseen by the game players that shape what is and isn't allowed and arguably have the potential to spill into other game genres.
Extra-time
How does all of this relate to historical games? Historical games are a genre that can utilise real-world buildings, monuments and heritage sites. Those buildings may be reimagined to be placed more in keeping with the time period, to reflect other aspects of the game or gameplay (for example, tall climbable buildings for parkour and free-climbing in the Assassin's Creed franchise) or to maintain a defined art style (such as media and classical art influences on the environment design for Red Dead Redemption 2). Where these are created by a developer they typically would be protected under copyright as an artistic work. There is scope, though, for digital assets of historical venues to be created and licensed in the same ways as Stadiums in FIFA are, by the real-world owner(s) or custodian(s). Pre-pandemic this seemed to be a remote possibility: however, the impact that COVID19 has had on tourism, combined with increasing interest in blockchain technologies and the significance of maintaining a stronger online identity may lead Galleries, Libraries, Archives and Museums (GLAMs) towards a model where they develop and license rights to environmental assets, in the same way, the other brand's license assets. This isn't to say it is a desirable model, but if phenomenally profitable games such as FIFA can work with multiple license holders to present replicas of real-world assets in the digital space for "authenticity" and "accuracy", there exists the possibility that other venues will look to new models to derive income.
References
Charleston, S. (2009). The English football ground as a representation of home. Journal of Environmental Psychology, 29(1), 144-150.
Chapman, A. (2016). Digital Games as History: How Videogames Represent the Past and Offer Access to Historical Practice. New York: Routledge.
Wood, J., & Gabie, N. (2013). The football ground and visual culture: recapturing place, memory and meaning at Ayresome Park. In The Visual in Sport (pp. 118-134). Routledge.