The British Library established a Digital Scholarship department in 2010. Its purpose was to explore and promote innovative and creative reuse, as well as computational and data-driven research using the Library's data and digital collections – both the digitised analogue collections and increasingly, born-digital material. I was one of the founding members of the initial team shaping and establishing this new department.
As a digital curator at the British Library, I've worked on a number of initiatives exploring how digitised cultural heritage collections can be used by creatives, including games makers. I've also worked on research projects examining how interactive, born-digital works can be archived and preserved as collection items, so that they might be analysed by future generations of researchers.
My professional interest in game technologies, and how they could potentially be used in libraries and archives, started when I went to the Preservation of Complex Objects Symposia held in Cardiff in 2012. At this event I met Iain Simons, who ran the GameCity Festival in Nottingham, and Professor James Newman from Bath Spa University, the co-founders of the National Videogame Archive, which became the National Videogame Arcade in Nottingham and is now the National Videogame Museum in Sheffield.
This meeting led to discussions about if and how British Library digitised collections could be used by games makers, and the creation of the Off the Map student game design competition. This challenged students to create video games and virtual interactive environments using digitised British Library 'assets'. The first competition in 2013 used maps and views selected by the Library's Lead Curator of Antiquarian Maps, Tom Harper, featuring three places which Tom thought would inspire creative reimagining: Stonehenge, the Pyramids at Giza, and seventeenth century London. The latter location was chosen by aptly named first-place-winning team Pudding Lane Productions, comprising of Joe Dempsey, Dominic Bell, Luc Fontenoy, Daniel Hargreaves, Daniel Peacock and Chelsea Lindsay, all from De Montfort University, Leicester.
This team used Crytek's CryEngine software, to build an impressive explorable virtual environment of London, as it was before the Great Fire in 1666, which attracted the interest of the press and was featured on the BBC's technology programme, BBC Click. Their work was informed by evocative architecture depicted in collection items including a detailed 6ft long engraved panoramic view of London by Claes Visscher. It was also informed by John Leake's An exact surveigh of the streets lanes and churches contained within the ruines of the City of London, a map detailing the vast area: 373 acres of the city, including more than 13,000 houses and 84 churches, destroyed by the 1666 fire.
Based on the success of the first competition, Off the Map ran again three more times, expanding to include digitised texts, book illustrations and recorded sounds in the asset packs, and themed to coincide with British Library exhibitions. For 2014 it was the Library's Terror and Wonder: The Gothic Imagination exhibition. In 2015 the competition celebrated 150 years of the publication of Alice's Adventures in Wonderland, and winning games were playable in the Alice in Wonderland exhibition. Then, in 2016, the competition tied in with the Shakespeare in Ten Acts exhibition. A 2017 competition had been planned to accompany an exhibition on Victorian Entertainments: There Will Be Fun, but unfortunately this had to be cancelled due to copyright concerns relating to the collections that had been selected, as the death dates could not be proven for some of the creators. This period also coincided with the transition of the National Videogame Arcade into the National Videogame Museum and its relocation from Nottingham to Sheffield. So, sadly, there was not time and resources available to rearrange with a different theme and digitised collections.
As mentioned, most of the topics chosen for Off the Map themes were to enable a tie-in with BL exhibitions, with the aim that this would raise the profile of the competition and attract attention to the students' entries. We also carefully thought about how to encourage games that would be family friendly and suitable for viewing and playing by audiences of all ages, so that the entries could be showcased at public events including the GameCity festival. Factors that influenced the curatorial selection of collection items for the asset packs included several practical considerations, such as whether the works were out of copyright, cleared for reuse, and whether they had been previously digitised, as if not, the time and costs for digitisation had to be included in the competition planning.
British Library exhibitions scheduled during the 2014-2016 Off the Map competitions were literary in focus, but curators were creative when deciding sub-themes, which included historical environments and places. Maps and views of Whitby were chosen for the gothic competition because it is a setting in the novel Dracula. Also detailed illustrations of Fonthill Abbey in Wiltshire, this had been a stupendously extravagant gothic building built by plantation owner and novelist William Thomas Beckford, which was demolished in 1846 after the collapse of its 300-foot tower twenty years earlier.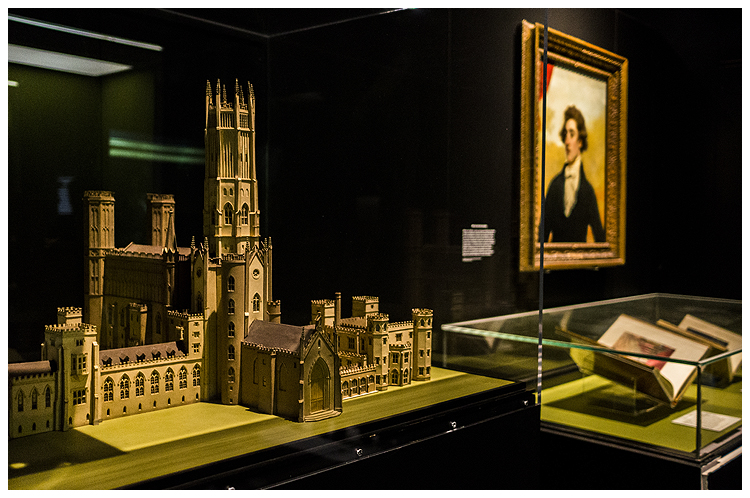 For Alice's Adventures Off the Map, we selected works depicting Oxford, including the riverbank in Christ Church Meadow where Lewis Carroll created the story, gardens and underground. Shakespeare provided many opportunities for sub-themes, so we grouped material into three curated topics. The first was castles as scenes of ghosts and murder, the second was forests, woodlands and A Midsummer Night's Dream and the third The Tempest.
There are theories that the shipwreck of the Sea Venture on one of the islands of Bermuda in 1609 provided Shakespeare with inspiration for creating The Tempest. Various accounts of this wreck were printed as pamphlets during Shakespeare's lifetime in the early seventeenth century, such as A Discovery of the Barmudas, otherwise called the Ile of Divelsby Silvester Jourdain, A True Declaration of the Estate of the Colonie in Virginia by the Councell of Virginia, and A true reportory of the wracke by survivor William Strachey, who witnessed a 'most dreadfull Tempest' and shipwreck on the Bermudas. Although this was not published until 1625, a manuscript version of Strachey's account was first circulated in England in 1610, when Shakespeare is thought to have seen it before writing The Tempest.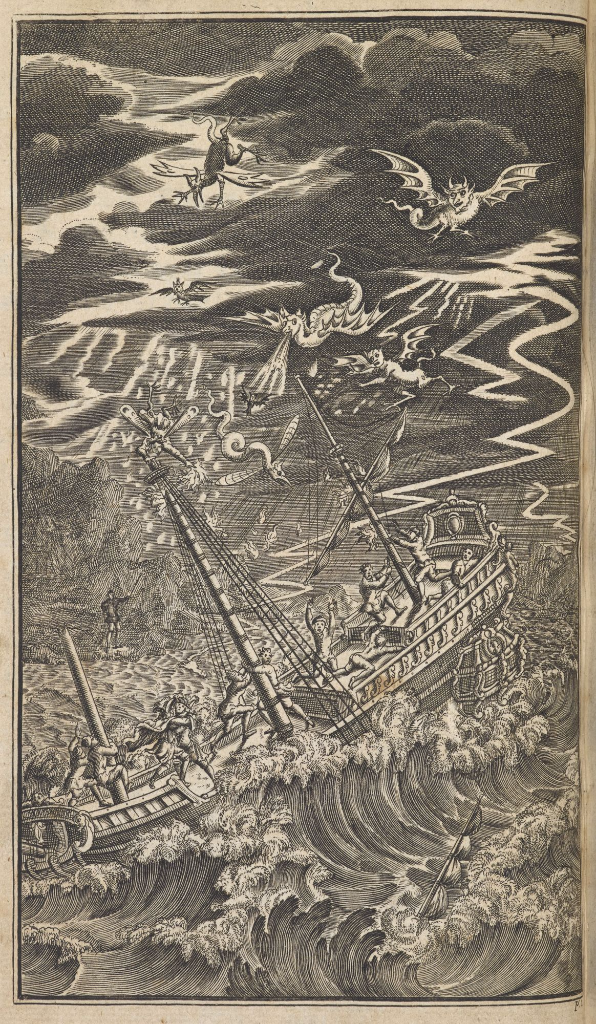 Examining Shakespeare's works such as The Tempest through a perspective of European colonial expansion raises complex issues of how the English in the early seventeenth century understood and treated indigenous peoples and other cultures. For example, some researchers see the character Caliban in the role of the indigenous person and Prospero as that of the European coloniser. Shakespeare's world was one of rapid cultural, social and technological changes, with exploration and colonialism driving the demand for cartography, and widespread use of printing presses supplying books, pamphlets, topographical prints and maps to those with wealth.
To inspire participants working on The Tempest theme for 2016's Shakespeare Off the Map, the Library used digitised illustrations depicting The Tempest, such as this dramatic one from Nicholas Rowe's 1709 edition of The Works of Mr. William Shakespear: in Six Volumes, and historic maps of Bermuda including this fine example Mappa ÆSTIVARUM Insularum, alias BERMUDAS dictarum by Hendrik Hondius. You can see the influence of these items in the design of the winning game created by Team Quattro, comprising of Chris Anka, Perrie Green, Tara Naz, Jade Silver, Jasdev Singh and Joel Wilkins. One of the competition judges and Shakespeare expert Dr Erin Sullivan described their submission as 'an evocative, immersive world that powerfully channels the drama of The Tempest. It introduces players to the story of the play in a deep, thoughtful way.'
The demise of the Off the Map competition was personally challenging. But with reflection it taught me lessons and helped prepare me for collaborating on other projects using videogame technologies to examine and play with historic archive and literary collections. This included the MissionMaker research projects Playing Beowulf and MissionMaker Macbeth led by University College London's Institute of Education, and Lancaster University's Litcraft initiative, which builds literary environments in the Minecraft platform. I also worked with Ash Green to run online game jams, which encouraged participants, often people who make games as a hobby, to reuse and be inspired by illustrations from the Library's vast collection of digitised books mostly dating from the 18th and 19th century, which are available as Public Domain on the British Library's Flickr channel.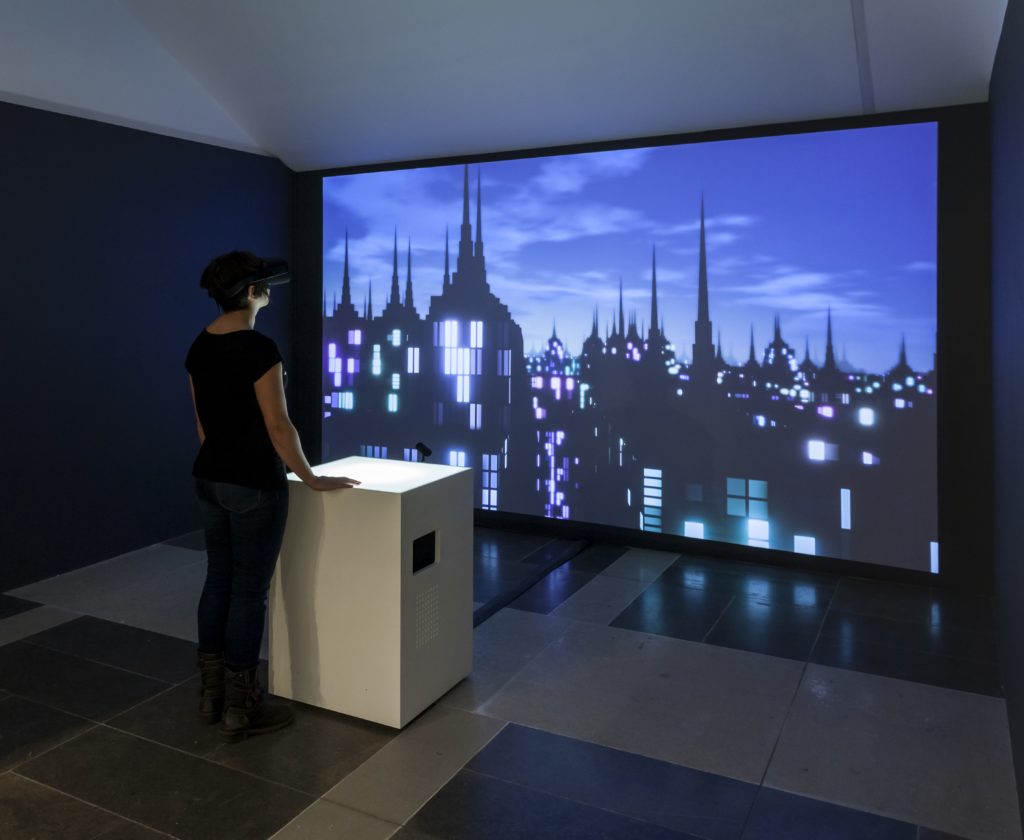 Artist Michael Takeo Magruder remixed four 19th-century maps of London, Paris, New York and Chicago from the Flickr collection in his British Library residency and 2019 Imaginary Cities exhibition, which included a virtual reality cityscape based on New York City that was generated fresh each day to reflect live data, including page views, interactions and volunteer image tagging of the historical map on Flickr Commons.
I feel like there is much virtual ground still to be explored in how digital creatives can experiment with and use digital archival and library collections, including 3D models. In recent years, the Library has invested in bespoke 3D imaging equipment to create digital models of a variety of items including Jane Austen's Desk, oracle bones and globes.
There is also much learning and reflective work currently being done by cultural heritage institutions including the Library, who are openly reckoning with the colonial origins and legacy of historic collections and practices.
Another priority in the Library is research into the collecting and digital preservation of eBook mobile apps and web-based interactive narratives as part of the UK Legal Deposit Libraries emerging formats work. This is still in early stages, but we are grateful for the cooperation of studios such as inkle, who have collaborated with the Library, enabling us to archive their award winning game 80 Days as a case study, assisting us on our journey navigating how we can safeguard examples of contemporary digital culture and stories for researchers of the future.
Stella Wisdom is Digital Curator for Contemporary British Collections at the British Library, with professional interests in digital publishing and emerging formats, including the collection and preservation of narrative apps and interactive fiction. Stella has collaborated widely on game-related projects and events, notably Off the Map with GameCity/National Videogames Museum; Litcraft, a Lancaster University led initiative, which builds literary worlds in Minecraft; and with AdventureX to host narrative games conventions at the library.
Further reading
Burn, A. (2021). Literature, Videogames and Learning. Literature and Education: Vol. 4 (1st ed.). London, UK: Routledge
Clark L., Rossi G. C. and Wisdom S., 2020. Archiving Interactive Narratives at the British Library. In: Bosser, A.-G., Millard, D. E. and Hargood, C., eds. Interactive Storytelling. ICIDS 2020. Lecture Notes in Computer Science, 12497. DOI: https://doi.org/10.1007/978-3-030-62516-0_27.
Dempsey, J., Hargreaves, D., Peacock, D., Lindsey, C., Bell, D., Fontenoy, L. and Williams, H., (2014). Pudding Lane: recreating seventeenth-century London. Journal of Digital Humanities 3(1) Spring. Available at http://journalofdigitalhumanities.org/3-1/pudding-lane-recreating-seventeenth-century-london/.
Holloway-Attaway, L., 2021. Interview with Stella Wisdom, Digital Curator at the British Library. gamevironments 14, 230-256. Available at http://www.gamevironments.uni-bremen.de.
List of images & videos
Flythrough video of Pudding Lane Productions: https://youtu.be/SPY-hr-8-M0
Illustration depicting The Tempest, from Nicholas Rowe's, 1709, The Works of Mr. William Shakespear: in Six Volumes [BL: 2302.b.14]
Flythrough video of Team Quattro's The Tempest https://youtu.be/0lzpEFgpk3Y]
Michael Takeo Magruder, Imaginary Cities at the British Library, 2019. Photographs by David Steele (c) Michael Takeo Magruder
3D model of Willem Janszoon Blaeu Celestial Globe 1602 https://skfb.ly/6RrKL
List of links
https://www.bl.uk/projects/off-the-map
https://www.bl.uk/collection-items/engraved-view-of-london-by-c-j-visscher-showing-the-globe-1616
https://www.bl.uk/collection-items/survey-of-the-ruins-caused-by-the-great-fire-of-london
https://commons.wikimedia.org/wiki/Category:Delineations_of_Fonthill_and_its_Abbey_(1823)_by_John_Rutter
https://en.wikipedia.org/wiki/Sea_Venture
https://muse.jhu.edu/book/24516
https://quod.lib.umich.edu/e/eebo/A14518.0001.001
https://www.bl.uk/collection-items/stracheys-a-true-reportory-of-the-wreck-in-bermuda
https://www.bl.uk/collection-items/the-first-illustrated-works-of-shakespeare-edited-by-nicholas-rowe-1709
https://www.flickr.com/photos/britishlibrary/50265669187
https://andrewburn.org/missionmaker/
https://www.ucl.ac.uk/ioe/research-projects/2020/sep/playing-beowulf
https://darecollaborative.net/2018/11/15/playing-macbeth/
https://www.lancaster.ac.uk/chronotopic-cartographies/litcraft/
https://www.bl.uk/collection-guides/digitised-printed-books
https://www.flickr.com/photos/britishlibrary
https://www.bl.uk/press-releases/2019/april/imaginary-cities
https://www.bl.uk/press-releases/2020/march/digital-globes
https://blogs.bl.uk/digital-scholarship/2019/04/collecting-emerging-formats.html