This is first guest post from one of the panelists, Kasia Smith. You can sign up for the event on via our Eventbrite here. This will take place on Wednesday 13 April 2022, at 16:00 UK time (15:00 UTC). 
Kasia is a Regeneration Manager with North Ayrshire Council. Previously Kasia was the Regeneration Officer delivering on the Conservation Area Regeneration Scheme (CARS) in Millport, Isle of Cumbrae. Kasia specialises in built heritage conservation and heritage-led outreach initiatives, and has previous experience in architecture, urban design, planning and building conservation and is particularly interested in innovation, public engagement and sustainability. As part of the outreach for the Millport CARS Kasia worked with students from Abertay University to create the Isle of Cumbrae in Minecraft.
Cumbraecraft
Cumbraecraft is a heritage-themed game built on the Minecraft: Education Edition platform (Microsoft) designed for primary school children and providing an attractive and stimulating learning environment with a focus on local heritage and history. It comes with a complete suite of lessons based on the discovery of local heritage assets and their history from around the virtual representation of the Isle of Cumbrae in North Ayrshire, Scotland. The game aims to engage the target age group (9-12) through captivating and motivating gameplay with an otherwise difficult topic that is easy to use in the classroom, as well as in a home-learning setting. The challenge-based learning is complemented by mechanics focused on the themes of exploration and discovery, narrative and communication, fellowship and teamwork, expression and creativity, curiosity, and problem-solving.
In addition to enhancing Scotland's Curriculum for Excellence and maximising the experience and learning outcomes for children, the game also aims to promote local heritage and destinations and, therefore, stimulate and support heritage tourism. Additional benefits also include contributing to an electronic record of local heritage and introducing young people to potential career options in gaming and computer arts, supporting North Ayrshire Council's young workforce strategy.).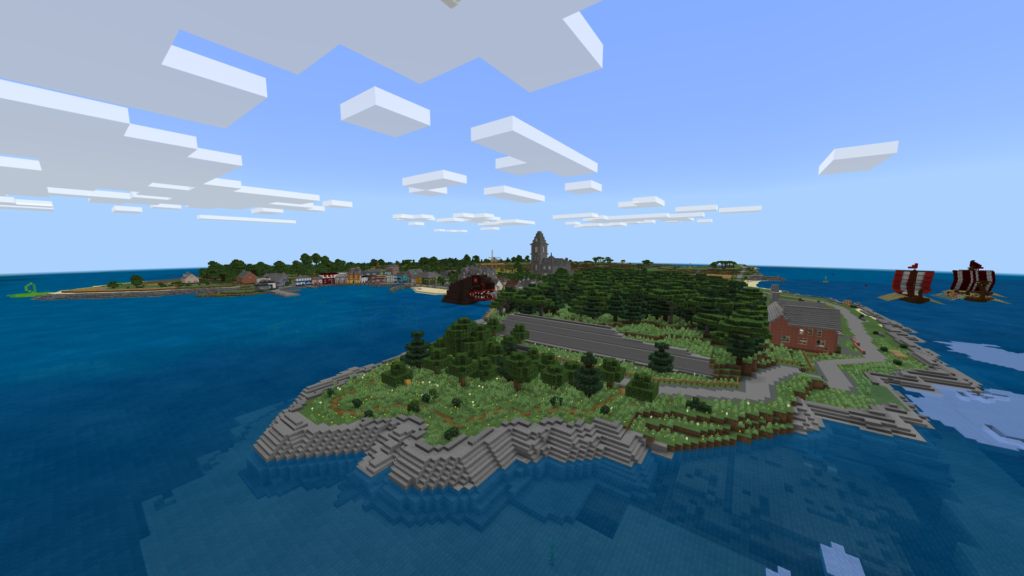 A Virtual Millport
The game was developed by a small team of game development students from Abertay University through the Millport Conservation Area Regeneration Scheme (Millport CARS), a partnership project from North Ayrshire Council and Historic Environment Scotland. It's a pilot project addressing the gap in game-based learning/teaching young people about local heritage and its conservation and the historical significance of their communities and culture, with an emphasis on Scottish culture, language, and tradition.
Millport CARS is a grant programme providing financial assistance for the regeneration of historic properties within designated areas of Millport Conservation Area. By adopting proven traditional building techniques and avoiding unnecessary damage or replacement of sound historic fabric, the project aims to restore and conserve the historic built fabric and safeguard the historic environment of Millport Conservation Area for the future. This project funds regeneration and conservation initiatives to help reinvigorate Millport as a seaside and island destination. In addition, it aims to boost civic pride by contributing to social and economic regeneration. A programme of heritage-led activities supports the building restoration works by engaging local communities and visitors with local history and heritage, also providing training opportunities in traditional building skills.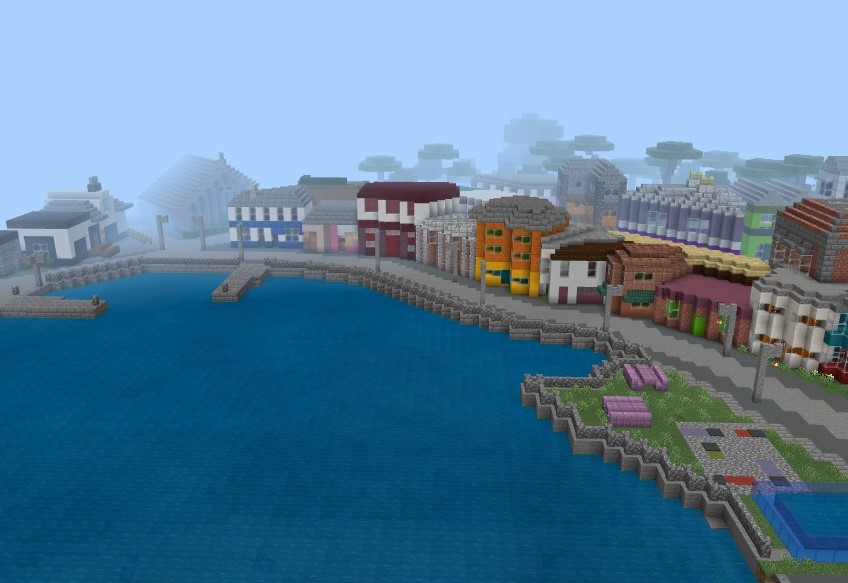 The game was created as an important element of the outreach plan for the Millport CARS project addressing a couple of its set outcomes, namely the engagement of existing and new audiences with the local heritage and creating opportunities to learn about the local historic environment. In addition to providing tailored content, it was also an attractive engagement tool in its own right capitalising on the likes, skills, and preferences of the target group. Prior to the pandemic, the game project was initially perceived as the last in the series of heritage-led workshops aiming to take children on a journey and exploration of their local heritage and history through archive research, photography, architectural sketching, filmmaking, with a view of capturing and recording information, which would then feed into the next workshop. Minecraft workshops were regarded as a way to maintain the momentum of their journey and as a reward for collating all the knowledge gathered through each workshop. Instead, with national lockdowns and a global pandemic, the development of the game was accelerated after the initial historical research workshops with the aim of supporting virtual learning during lockdowns.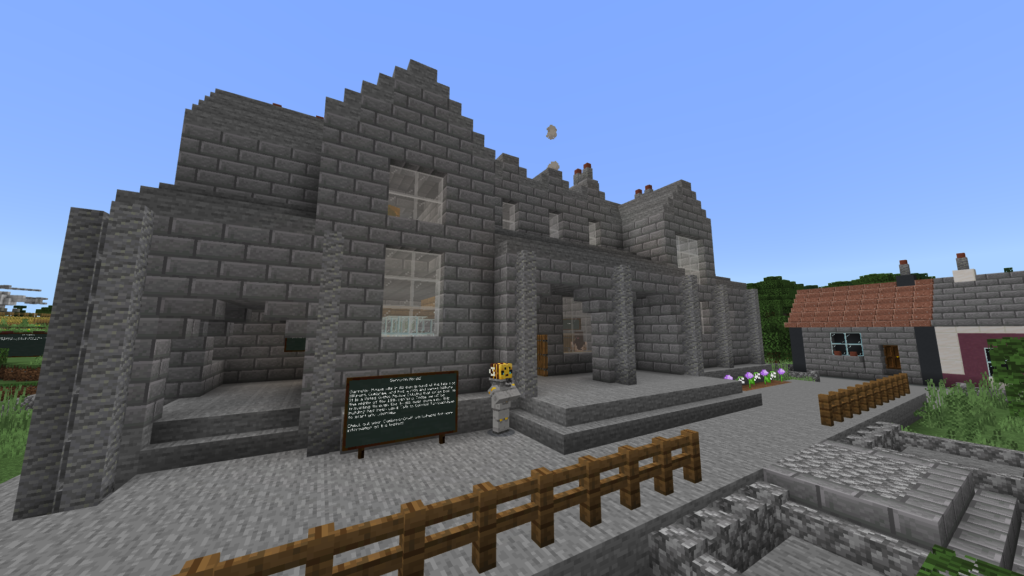 Why create a game environment? For us, at Millport CARS this seemed an obvious choice based on general observation of high engagement of children with any given topic within a game environment. The potential to make daunting history lessons potentially more engaging and in a platform already popular with children was obvious, and this was supported by the feedback received during initial sessions and later through the evaluation process. Why Minecraft in particular? Well, I'll be honest, my exposure to gaming was limited to what my primary school-age child was playing, and Minecraft was always her top choice, which we later confirmed to be the case amongst the majority of primary school children. We've seen a huge potential to enhance creativity and curiosity and an opportunity to support several other learning outcomes. So, when I was challenged to engage school children with heritage for my work project, it was an obvious choice.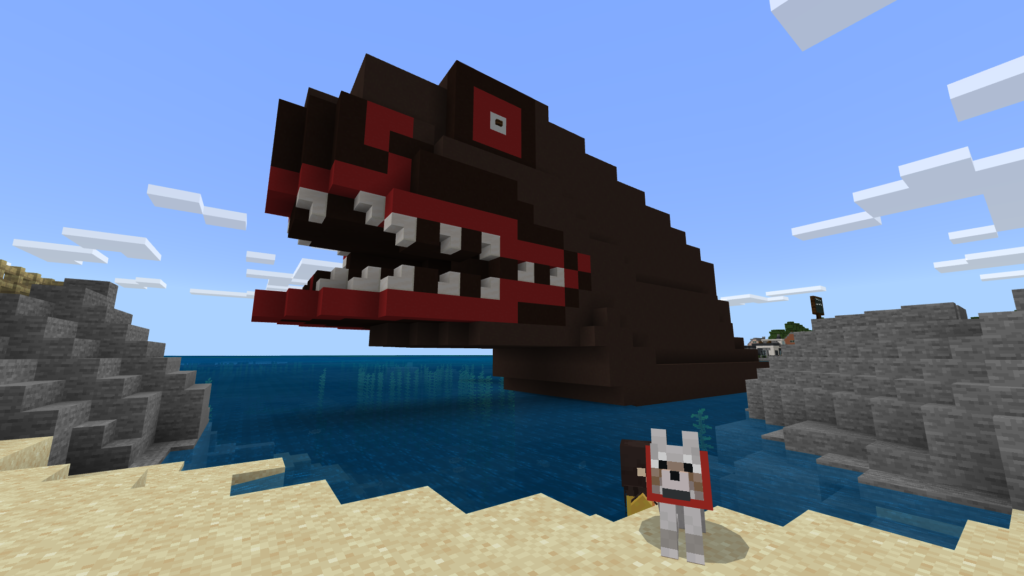 Evaluating Cumbraecraft
Throughout the development, we asked children to test the lessons and their responses always exceeded our expectations. The game elements, puzzle mechanics, and riddles were engaging for the children and as these were designed to work for both individuals or in groups, played to Minecraft's strengths [Table 1].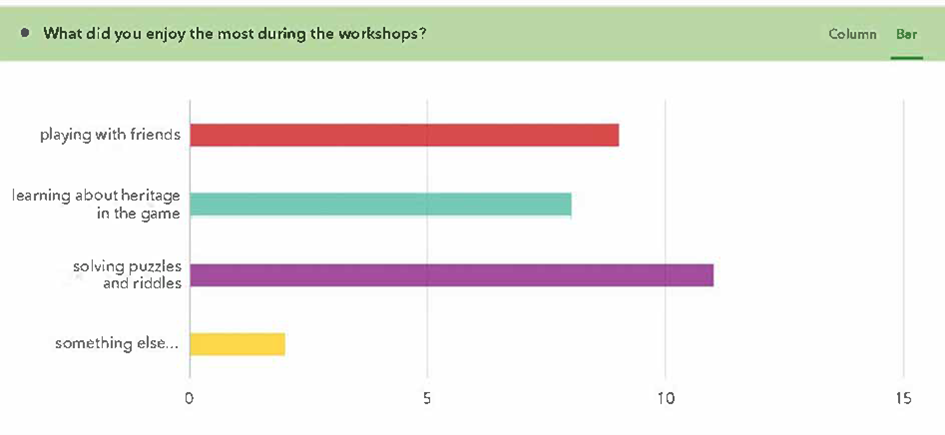 Later on, feedback from children and teachers involved in the pilot was overwhelmingly in favour of 'learning through gaming' alongside field trips [Table 2].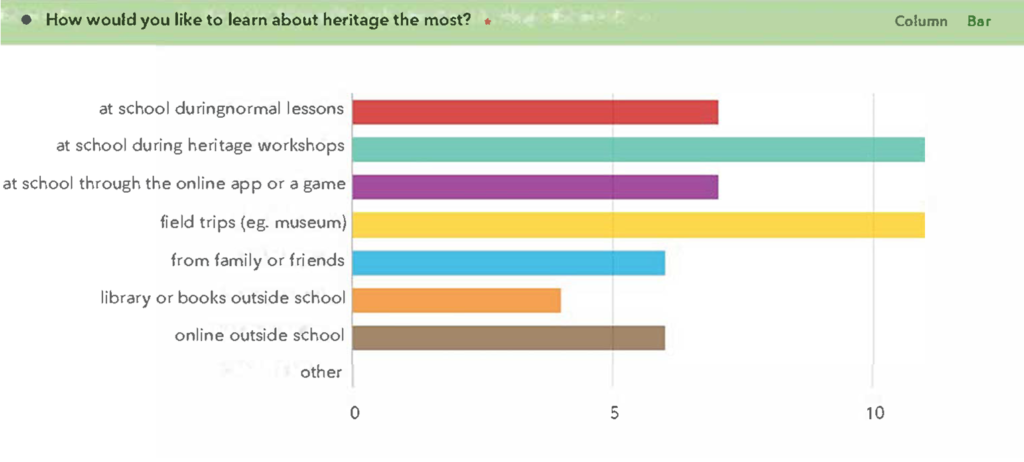 This was an indication that the game could provide a level of stimulation and interest to actively engage children with the topic, and played an important role during the lockdowns. Teachers reported increased engagement with the topic following the Cumbraecraft sessions and the children were often the ones instigating the conversations. They were also extending their curiosity outside school and would often later share stories from family and friends in the classroom.
Conclusions
While I don't believe this tool can replace traditional schooling, it is a great addition and plays a valuable role in sparking the interest in the given topic, which can be then stretched across other means/tools. It has also proven to be a very useful support to home learning during the lockdowns. From the perspective of heritage conservation, it's a great way of capturing, recording and archiving electronically the historic environment and its heritage assets.
Following the positive feedback from the workshops and the demand expressed from the public after the national promotion, mainly parents and educators, we're working on making the game available to the general public. Making this resource widely available will extend the project's outreach beyond a local setting promoting local heritage and Cumbrae as a tourism destination. In addition to increasing the value to the project's outcomes, I hope this will also encourage young people to take more notice of their local heritage and appreciate the need for its protection and conservation. And who knows, maybe it will even inspire some to pursue a career in building conservation or promotion of the historic environment, also within a game environment.