In 1947, at the age of seven, Khalid Bashir Rai crossed the new border between India and Pakistan after the end of the British Raj. The border was the creation of a British lawyer, Sir Cyril Radcliffe, who had little idea of the history, demography and politics of India. His hurried line and swift departure from India with his countrymen preceded the largest forced migration event the world had ever seen. It is estimated that 14 million migrated and over one million died in the process. Khalid's village in India became unsafe for Muslims as communal riots broke out, and he fled with his family to Lahore in newly created Pakistan.
Not only are India and Pakistan hostile to each other, but visa difficulties and age make it hard for Khalid's generation to travel. A child of the empire, Khalid has never been able to go back to see his ancestral village. That is, until 2019 when my team of filmmakers from Project Dastaan showed him his ancestral village using VR glasses and 360 video. In an emotional virtual journey, he saw "home" again, and was greeted by the kin of Hindu and Sikh friends left behind. Old grudges melted away to nostalgia and prayers for the other, and Khalid and his family were given some form of closure after 72 years. I write about this story, as this is how Project Dastaan, an organisation I helped found in 2018, came to develop an animated VR docu-drama experience titled Child of Empire.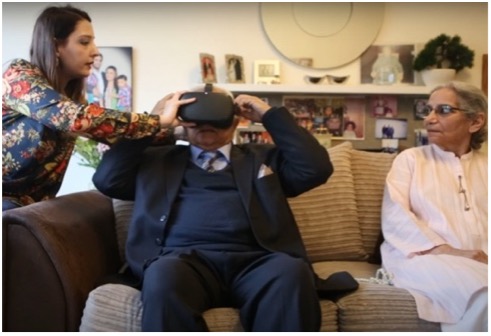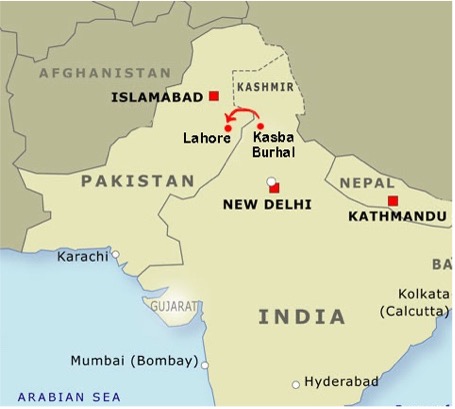 For five years we have been reconnecting the survivors of the partition of India and Pakistan to their lost homes using VR. As "enemy" states, there is a lack of empathy for the other that has become normalised in both these countries. In India communalism has reared its ugly head again in the last decade. The hatred between people crosses not just the border, but ethnic and religious communities in both countries. In Pakistan, Hindu temples are desecrated and in India, mosques lie broken and neglected. Minorities are maligned and treated with suspicion. But when we would reconnect survivors to their childhood homes, we found that we were able to create conversations between communities about shared memories, shared heritage, shared trauma, and forgiveness for what happened after 1947. Could we take this project of healing further, beyond the survivors of partition?
Child of Empire was thus conceptualised as an immersive experience of migration so that any viewer can understand the stories of those like Khalid Bashir Rai and empathise with the migrant. This was not just important for an India-Pakistan dialogue, but also for UK-based conversations about decolonial thought and a revaluation of empire. In the development of this VR experience, we relied on oral testimonies of people who migrated across the Radcliffe line as children. The film takes audiences through a deeply personal perspective of the epic historical event of Partition. Two men from the Partition generation — Ishar, an Indian Hindu who migrated from Pakistan to India, and Iqbal, a Pakistani Muslim who made the opposite journey — share childhood memories of their experiences while playing a game of snakes and ladders. As the two men unpack their memories, audiences embody the experience of a 7-year-old child at key points in the migration.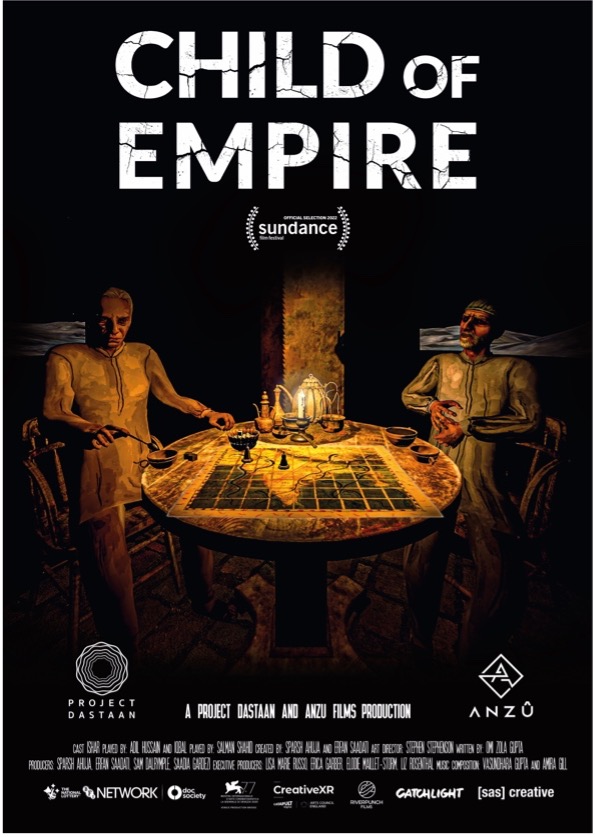 The film is built for Oculus Quest in Unity and includes interactive moments to immerse the viewer inside the world of the Partition. The viewer is invited to play Holi amongst members of different religious communities as Ishar recounts a syncretic festive culture in his ancestral village. When the characters are forced to migrate, the viewer is planted inside a train leaving Lahore in Pakistan for Delhi in India. They can explore the carriage with the aid of a virtual gas lamp.
The viewer is not on a straightforward historical walkthrough in an environment but is witness to a story full of symbolism, art and music. It was developed to encourage a discussion about Empire and colonisation across generations, communities, and diverse religious groups in the UK. However, we also wanted this project to resonate with audiences in India and Pakistan: firstly, to memorialise the event of independence and partition, and secondly, to reintroduce migration histories to a younger generation that may not understand the heritage and colonial experience common to India and Pakistan.
Originally, Child of Empire was going to be a traditional documentary using 360, but just as we were starting production, Covid-19 came along. We had to stop our work to record oral histories and reconnect survivors and had to rethink our fieldwork and filming plans. The more tragic aspect of our work was that some of our participants died in lockdown before we could show them their ancestral homes in VR. We realised that even the generation that saw partition as children was fast disappearing. Who would tell their stories such that younger generations would listen? We had to rethink our process, and in 2020 animation was one way that we could continue an empathy-building project and be more artistic, more poetic. The documentary became a conversation between two different people, and our story became interactive, to ground the viewer in the experience and make them feel part of the story. What better than VR to make people walk a mile in someone else's shoes?
We debated our opening scene, which provides historical context for the migrations of 1947. The opening compresses 200 years of history into about two minutes, and we had to provide a take on history that did not antagonise any particular religious or ethnic group or country. Child of Empire was thus grounded in stories of real individuals rather than the "facts" of political events. For us as creators, and as the grandchildren of empire, these stories cannot be reduced to the "facts". As a Pakistani, I cannot profess to be unbiased in my view of political history, nor could my Indian colleagues say that they understood the raison d'être of Pakistan better than I could. Our views on South Asian politics and history are messy, and this film had to be about grassroots human experiences. Many Indians and Pakistanis who would watch this film would be the children and grandchildren of migrants. This would be a personal and almost spiritual experience for them as it unpacks national identities. Thus, we created a narrative of lost friendship and spiritual awakening, with images of Krishna and verses of the Quran appearing to the migrating characters at moments of extreme emotional stress as ways for them (and the viewer) to cope with the physical and real trauma around them.
In the aftermath of the four wars fought between the countries, the sad reality is that the average Indian and Pakistani, despite their common history, language, culture and religious practices, have never actually met each other. This lack of cultural exchange allows misconceptions about the "other" to foster. Jingoistic electoral politics and selective historical memory encourage this othering process, pitting communities against each other. Against this historical backdrop of mistrust and unresolved colonial violence, Project Dastaan and its films seek to transport survivors back to their long-lost birthplaces and evoke memories of a shared history and culture, before national identities were hardened.
(Child of Empire has been generously financed by the CatchLight Foundation, Digital Catapult and Arts Council England's flagship immersive accelerator, CreativeXR, Happy Finish, as well as BFI Network/Doc Society's "Made of Truth" Shorts Fund.)
Saadia Gardezi is a journalist and political cartoonist from Pakistan and a PhD student at Warwick University. Her research is focused on political cartoons during the War on Terror era, exploring how they create imaginaries of security and nationalism. She is the Co-Founder of Project Dastaan (@ProjectDastaan), an organisation that records oral histories of survivors from the Partition of India and Pakistan in 1947, and reconnects these survivors to their ancestral homes across the India-Pakistan-Bangladesh borders using VR and other new technologies. She is the producer of the award-winning VR docudrama Child of Empire and has written and produced animated shorts about South Asian stories.